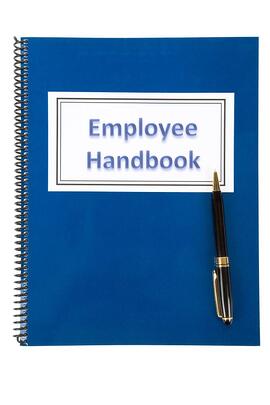 As soon as a candidate signs the dotted line on employment paperwork, they should receive an Employee Handbook. Handbooks provide employment information, define expectations, clarify policies and highlight employee benefits. They also help keep employees accountable and prevent misunderstandings or incorrect assumptions.
While many organizations already provide employees with a handbook, a large percentage have not reviewed or updated it in several years, and others have never created one at all.
Benefits of a Comprehensive Employee Handbook
The amount of effort put into the process will determine the extent of its benefit, but ultimately, many issues can be avoided with the presence of a well-drafted, accurate and comprehensive handbook. Benefits include:
Orientation tool for new employees
Ensures consistency in expectations
Educates supervisors and managers
Assists in creating fair treatment of employees
Helps with Federal and State compliance
Prevents misinterpretation of laws and policies
Reduces the risk of lawsuits and becomes a great defense tool
What to Include
An Employee Handbook should include important facets of the business and give clear directions. It should encompass accurate information on policies and procedures and focus on legal obligations as well as employee rights.
Federal and State legislation can have a large impact on what is included in an Employee Handbook. Some states may require specific text and recent court decisions may influence additional language. Because of the risk of litigation in employment matters, it's important to involve Human Resources and legal representatives in handbook creation and review processes.
It is essential that the handbook use terms that employees will understand. Many experts also suggest using a 12-point or larger font and large margins to make it easy to read.
Handbook Creation Resources
Those that have not yet created a handbook should know that the task is not as daunting as it seems. Although it is a lot of information to compile, there are also many resources available to make it easier. Templates can be obtained from books or CDs as well as from HR or Payroll providers, which can then be easily customized to fit the company's specific needs.
Once a handbook is created, employee communication can be automated through technology. An Intranet, Employee Self Service Portal or HRIS (Human Resource Information System) can publish new versions to employees. Some of this technology even allows an employee to acknowledge they have received the handbook then stores that data for future reference.
Updates to a handbook should take place frequently to ensure the document remains relevant and up to date. Legal experts recommend a review every 6-12 months to identify if a new version is required. Each time a new or updated handbook is provided to employees, it is also crucial that the employees sign off indicating it has been received.
Internal Changes Requiring Handbook Updates:
Adjustments in expectations, policies or procedures can create cause for updates within the handbook. Examples might include:
Compensation updates
Leave of Absence changes
Internet usage updates
Privacy notifications
Benefit changes
External Influences Requiring Handbook Updates
Changes in legislation also play a vital role in the content of a handbook. Therefore, amendments and new regulations may require the handbook to be updated. Examples include:
Occupational health and safety (OSHA requirements)
Union elections
Work authorization for non-U.S. citizens
Workers compensation
Meal and rest breaks
While there is no "one size fits all" when it comes to Employee Handbooks, it is absolutely imperative that one exists and is followed. PAYDAY can help businesses accomplish these tasks with HR Pro Support, HRIS technology and more. Contact us today to find out how we can help you with your custom Employee Handbook.